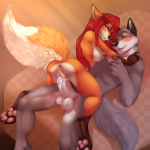 With a growl, he lurched to his feet, licking his muzzle, my musk in his mouth. He grips one of my furry hips, fingers pushing my thigh up. He leaned back, snarling with lust as I presented my swollen, soaked furry pussy to him. Crouching a bit, he took his cock in his free hand as he guided it to my opening. A growl vibrated him as he pushed against my tight heat. Snaking a claw in the crotch of my panties, he ripped them open, flipping the ruined lace up over my furry waist. Another growl rumbles as both of his hands gripped my furry hips, and he thrusted hard. His thick cock pushed from just between my furry pussy lips to driving deep inside my pussy. I arched my hips back as one of his paws lift, fingers curling around my tail. Call foxy Crissy for some naughty Furry phone sex.
Crissy
888 938 7832
#furryfetish #furryphonesex #phonesex
Click here to chat with a phone sex mommy now!